Electric Toothbrush System
Whether you have sensitive teeth or want to whiten your smile, Oral-B iO Electric Toothbrush System will get the job done! Contact us today for more information!
Only Oral-B® iO™ Refills will fit on the
Oral-B® iO™ toothbrush.
Also Included:
Replacement Brush Head Refills: 1 Oral-B® iO Series Ultimate Clean Refill and 1 Oral-B® iO Series Targeted Clean Refill
Reusable Tote Bag
Oral-B iO Electric Toothbrush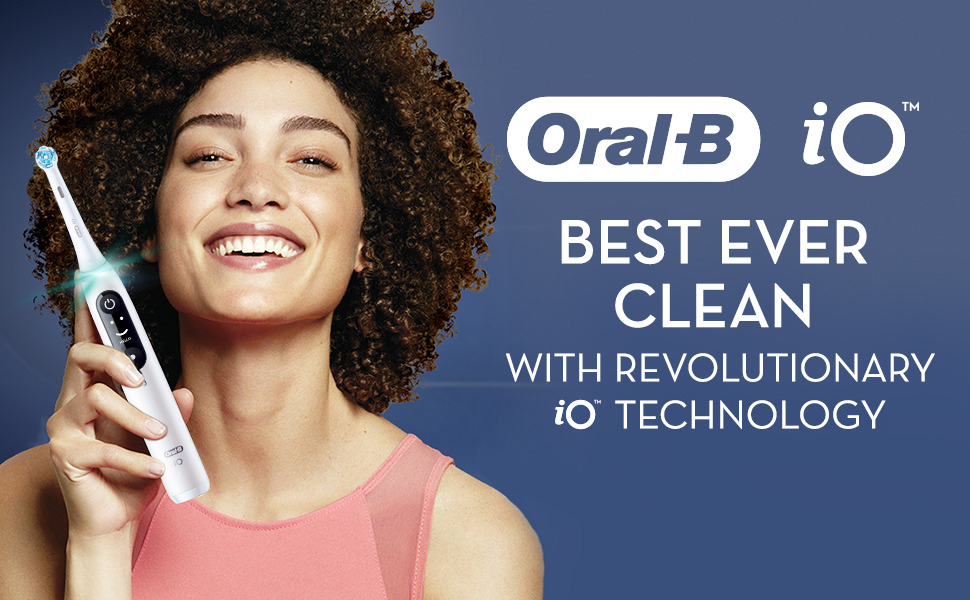 Oral-B® iO™ Combines Oscillation Rotations and Micro-vibrations for a Sensational Clean Patients can't Resist.
The Value of Dispensing Oral-B iO™
"Offering patients the opportunity to conveniently purchase Oral-B electric toothbrushes and other Crest® + Oral-B® home care products directly from your practice will improve their oral health while simultaneously increasing practice production"
- Roger P. Levin, DDS
Oral-B iO Electric Toothbrush System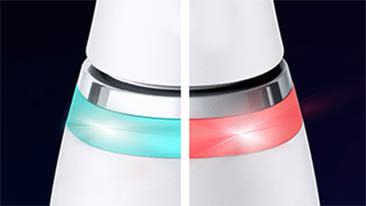 For individuals with sensitive teeth and gums, who require a soft manual toothbrush, the Smart Pressure Sensor provides guidance on how to brush with the right amount of pressure to help protect gums. The ring lights up green when optimal pressure is applied, and red when the pressure is too hard.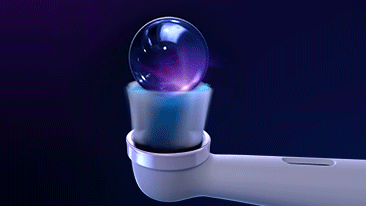 The innovative magnetic drive delivers concentrated energy to the tips of the bristles where it's needed most, allowing the brush head to glide tooth by tooth for a smooth, quiet cleaning experience.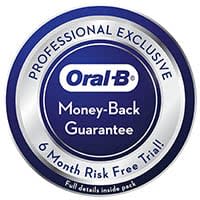 We are so confident that you and your patients will love the Oral-B iO Electric Rechargeable Toothbrush that we are offering a Professional Exclusive 6 Month RISK FREE TRIAL! If you are not 100% satisfied for any reason, receive a full refund via a pre-paid card, no questions asked. Simply return the contents in the original box along with the office receipt postmarked within 6 months of purchase. Full details inside pack.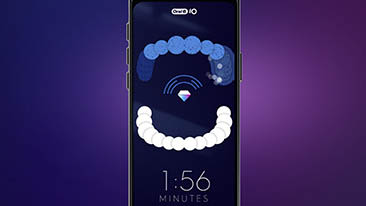 SMART CLEAN WITH ARTIFICIAL INTELLIGENCE
The Oral-B iO™ electric toothbrush system is built with position detection and Artificial Intelligence (AI) for whole mouth coverage. Using AI, the Oral-B App can guide patients to achieve their best clean in all areas of the mouth.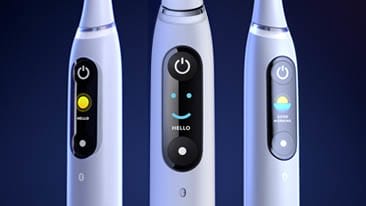 PATIENTS DESERVE A PERSONALIZED EXPERIENCE
The digital handle display delights patients with easy navigation through the brush features and personalization options, including welcome greetings, choice of brushing modes, language settings, reminders to change the brush head, and battery life icons.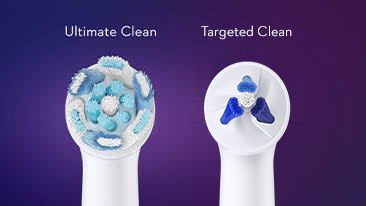 2 BRUSH HEADS TO MEET EVERY PATIENT'S NEEDS
If you need a soft manual toothbrush, Oral-B iO™ comes with 2 brush heads that are only compatible with Oral-B iO™. The Ultimate Clean brush head has twisted tufts of bristles and longer filaments for an outstanding clean, including in hard-to-reach areas. The Targeted Clean brush head has an innovative bristle pattern that packs high bristle density in a focused design, to effectively access and clean hard to reach areas.